Solterra hosted the 2008 Parade of Homes that featured eight world class luxury homes. All of the homes showcased the topography of the land, integrated outdoor space, and over-the-top kitchen design. Despite the economic downturn people showed up in record numbers to check out the Tuscan Villas perched under Green Mt.
The Denver Post did a good write up of the Solterra Parade of Homes, you can read it here.
Photos from the 2008 Parade of Homes: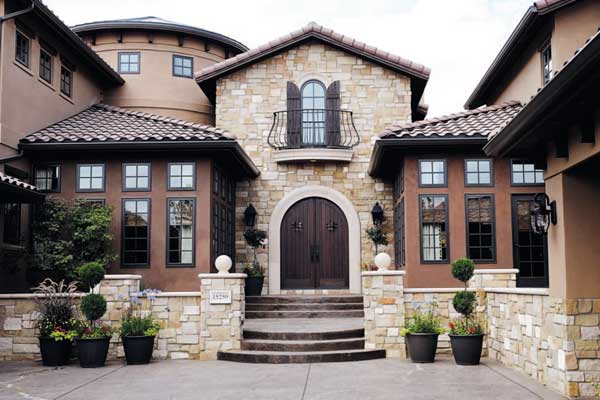 SEDE FELICE | A grand motor court sets off this $2.2 million house constructed by Element Custom Builders, Terra Verde Architects, Carolyne Evans Interior Design and Enviroscapes. The goal of the home was to recreate a Tuscan residence that has been in one family for centuries. Sede Felice is Italian for "happy home." (Cyrus McCrimmon, The Denver Post)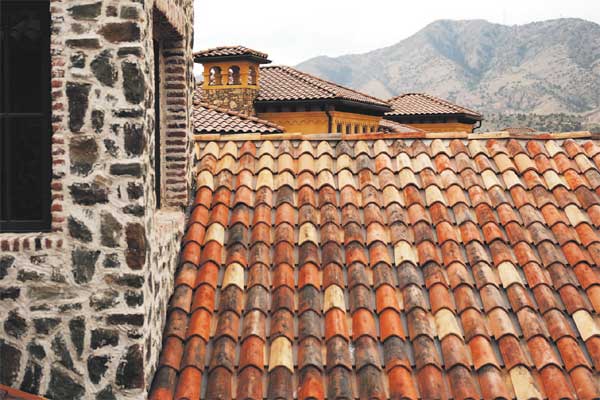 IL CAMPANILE | Brookline Homes, Godden|Sudik Architects, Amirob & Associates and Nu Style Landscape & Design built this prizewinning, modern Tuscan residence. (Cyrus McCrimmon, The Denver Post)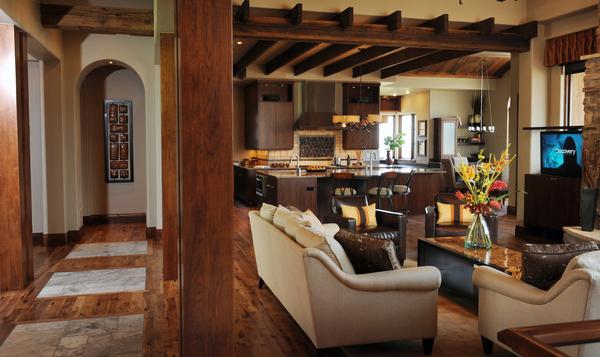 CASA VECCHIO E NUOVO | Meaning "the house of old and new," the Parade judges' overall choice is by Ades Design Builders, James Group Architects, Winegard Design Group and JJ Interiors. (Cyrus McCrimmon, The Denver Post)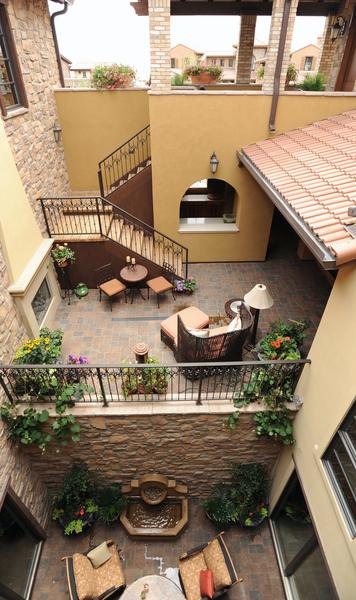 VILLA DI VITA | Wall Custom Homes, Woodley Architecture, Comstock Design and Environmetal Designs teamed up on this $2.5 million home. Earth tones and antiqued finishes characterize the interior. (Cyrus McCrimmon, The Denver Post)
Denver Post Article about the Parade of Homes:
Touring luxury show homes when the housing market is on the rocks seems a little like sitting through stand-up comedy during a bout of the blues.
Who's this joke on, anyway?
But organizers of the 2008 Parade of Homes at Solterra, a rustic new Lakewood development just east of C-470 in the shadow of Dinosaur Ridge, say the sour economy should actually encourage about 90,000 people to attend this year's event, which begins on July 26 and runs through Labor Day.
"We've been doing this for 23 years now" through every possible economic climate, says Vicki Pelletier, vice president of operations for the Home Builders Association of Metro Denver, the organizer behind the Parade. It's billed as the country's largest custom-home walking tour.
"What the Parade does is it lends the consumer an education in design and energy efficiency," she says. "Even if they're holding their cards close to their vests with the economy the way it is, people are still looking for ways to improve their homes."
Adding to the allure is a site with panoramic foothills views and easy access to downtown Denver, plus more houses to ogle than in years past, a focus on fabulous kitchens, patios and energy-efficient products, and a classic architecture and design theme inspired by European hill towns.
"We've built in many of the top areas in metro Denver," says Andrew Ades of Ades Design Builders in Evergreen, "but this place is really in a class by itself."
Some participants worried early on that Solterra's proximity to highways and Bandimere Speedway might create a noise-pollution issue. But the neighborhood's hilly topography helps.
"I was there on the Fourth of July, and you could barely hear anything," says Ades, who for the first time in his company's 25-year history opted to build a Parade home because he was so enamored of Solterra. His team took first-place prizes for architecture, floor plan and interior design.
Ades' "Casa Vecchio e Nuovo," is a $2.5 million, 8,000-square-foot home with, among other features, Brazilian Lyptus wood cabinets and recycled beams.
"People really like the floor plans that you get with Tuscan architecture," Ades says. "They like the look, the stone, the tile roofs and the way the spaces work around courtyards. That's particularly nice for Colorado living."
Builders, designers and landscapers all raised the bar this year to suit Solterra, according to Parade of Homes veteran Mickey Ackerman. "The site is magnificent," says the owner of Amirob & Associates. He's designed interiors for more Parade homes — 24 — than there have been actual Parade events.
"I think the quality of homes has never been this high," he says. "I think because the market is so poopy, this should be our best Parade ever."
Amirob teamed up with Brookline Homes to outfit "Il Campanile," a 7,302-square-foot house featuring a cross vault, or groin vault, ceiling and an Italian bell tower. This house gleaned first-place prizes for outdoor-living area, specialty areas and energy efficiency. It will be auctioned off to benefit Plant-It 2020, a nonprofit organization founded by the late singer John Denver.
Energy efficiency was key in all eight Parade homes. In the Waterstone Homes entry, "La Maison des Vues," a $2.2 million, 5,494-square-foot property that leans toward a French country aesthetic, the insulation and roofing manufacturer Johns Manville provided high-efficiency, formaldehyde-free wall-fill called JM Spider, which is made partly from recycled fiberglass, and Gorilla Wrap, an exterior product that controls moisture and air-flow.
"We know that consumers are looking for very energy-efficient homes," says Stephen Crouch with Johns Manville. "Years ago there was a lot of airflow into a house, but this is a very tight house."